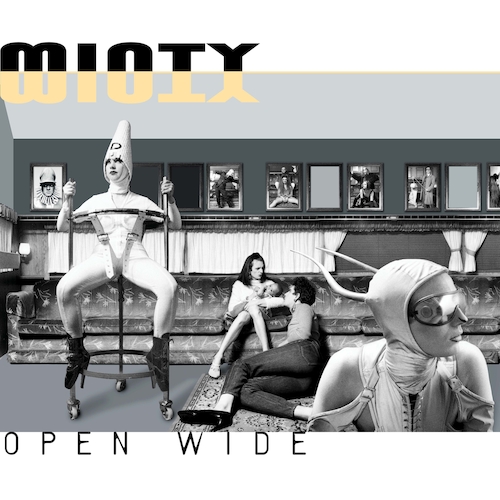 Open Wide
Available Formats
Tracks
Price
Buy
12" Vinyl Album
15 tracks

£

69.99

Download Album (

MP3

)
15 tracks

£

7.99

Download Album (

WAV

)
15 tracks

£

7.99

Download individual tracks
From £0.99
Description
Minty - Open Wide


In 1992, infamous fashion designer, model, performance artist and Taboo club promoter Leigh Bowery formed the band Minty (named after the Polari word for 'snooty') with friend, designer Richard Torry, wife Nicola, and promotor and performer Matthew Glamorre. Bowery was a massively influential pop art icon and experimental performance artist; his very existence has left a huge legacy upon popular culture. Minty was his musical vehicle to bestow his unique brand of art performance onto the world.

To mark 25 years since Leigh's passing Minty are re-released their renowned 1997 album 'Open Wide'. Preceded by the release of their cult club classic Useless Man in 2020, featuring new remixes by Boy George, Open Wide is the next chapter in the Minty story.

Inheritors of the Post Punk and New Romantic club scene, Bowery and crew led a vicious and uncompromising charge into challenging not only values and morality but celebrity culture itself. At a time before the internet, it was scandalous talk and sensational press articles that brought the band to the attention of the authorities. Their famously avant-garde and shocking onstage scatological, blood and gore performances prompted The Sun newspaper to describe them as the "sickest band in the land" – a statement of which Leigh was immensely proud. The UK's draconian, indecency and public licensing laws at the time soon led to bans, legal action and police raids at venues. Useless Man opened every show, Leigh, a huge figure in floral dress, face mask and wig heaved his way onstage and belted out the lyrics over a throbbing live rock band. He stomped and boomed across the stage never missing a beat. At the crescendo he hauled himself onto a table, laid back and 'gave birth' to Nicola in a shockingly graphic performance of which Boy George, who had seen it many times, said that it "never ceased to impress or revolt."

In November 1994, Minty began a two-week-long show at London's Freedom Cafe, audience members included Bjork, fashion designer Alexander McQueen and artist Lucien Freud, but it was deemed too shocking and Westminster City Council closed down the show after only one night. This was to be Bowery's last performance. On New Year's Eve 1994, the nightclubs, parties and discos of London froze in shock as news of the death of Leigh Bowery swept through the city and then the world. The legendary club freak, aesthete and iconic performance artist had gone.

However, Bowery and his conceptual art and creativity live on as the remaining band members continued his legacy under the leadership of Nicola Bowery and Matthew Glamorre: playing live shows and even supporting Pulp, at their request, on their 'Common People' tour of 1995. Their album Open Wide was released in 1997 with the same aesthetic fierceness and artistry of which Bowery would be proud. The album was started in a period of great excitement when the bands notoriety was climbing - but the actual writing and production was dramatically truncated by the personal and cultural trauma of Leigh Bowery's sudden death. Abandoned then re-discovered, further writing and recording took place throughout the grieving and reflecting process. Matthew describes the creation of the album as "Part primal scream therapy. Part death disco. Part belly laugh at the absurdity of it all." The album was received as ground breaking and was described as "a New Wave masterpiece - the long lost conclusion of Post Punk " by DJ and S-Express front man Mark Moore . It has also been quoted as inspirational by both Lady Gaga and Marilyn Manson .

Since then the band have taken the baton of Bowery's legacy and kept the artistic flame alive as well as continuing as aesthetes in their own right: Nicola Bowery is currently a designer and a performance artist. Matthew Glamorre is an audio visual artist who has worked consistently on the boundaries of music, art and technology – and as the director of Gryphon Records he wrote and produced music, artwork and film for the artist Bishi. Richard Torry is a multimedia artist, and musician based in London whose current retrospective exhibition in Paris is gaining much attention. Meanwhile Useless Man has become part of the soundtrack to the underground music and art scene playing on indie/ alt/ queer dancefloors across the globe. The flame lives on.

Bowery and Minty have undeniably influenced artists, musicians, comedians and designers across the decades and continue to do so: their music, now available in contemporary digital formats, further cements their place in the history of art and culture.

The limited edition vinyl release, pictured, is a thing of beauty. A triple gatefold double, clear vinyl album with fully restored artwork. It's a must have for any fan of legendary London underground art/ music and fashion.


Reviews
"'Open Wide' is an obscenely necessary reissue of a 1997 album which crammed way too much music onto a single LP, as was the style at the time. Talking of style, London band/collective Minty were a relatively ephemeral but entirely revelatory collision of high-concept fashion design, transgressive queer club culture, fringe cabaret and, oh yes, strange but earwormy music. On this, their only album, we get rude synthpop, postpunk of various types (shouty and primitive, or electronically treated), loungey jazz shenanigans, acid trance, with guest production by Dave Ball of The Grid and Soft Cell… It's now a fancy dan triple vinyl package, or if you want to go for the jugular you can cop a 12" repress of 'Useless Man', the debut Minty single from 1994 whose lyrics were deemed very much 'not for the vicar' on release."
- Noel Gardner,
Greedmag
Tracklisting
12" Vinyl Album (CON616LP)
Minty

- Procession

Minty

- Minty

Minty

- That's Nice

Minty

- Plastic Bag

Minty

- Useless Man

Minty

- Homage (Duet for Piano and Wineglass)

Minty

- Manners Mean

Minty

- King Size

Minty

- Hold On

Minty

- Nothing

Minty

- Homme Aphrodite, Pt. 1

Minty

- Homme Aphrodite, Pt. 2

Minty

- Dream

Minty

- Art?

Minty

- Jeremy
Download Album (CON616)